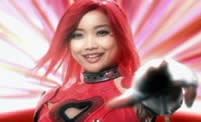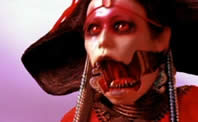 director: Hideaki Anno
starring: Chutima Avery · Eriko Sato · Jun Murakami · Mikako Ichikawa
Eisuke Sakai · Mitsuhiro Oikawa · Sie Kohinata· Hairi Katagiri· Mayumi Shintani

Legendary animator Hideaki Anno (GRAVE OF THE FIREFLIES and MACROSS SAGA) turns director for this incredible extravaganza! To the surprise of many people (critics and audiences alike) CUTIE HONEY emerges as one of the greatest action adventures of all time... filled with broad camp humor and eye-popping visual effects. This movie is both stupid and smart, cheesy and breathtaking, sexy and sweet. "Forget SPIDERMAN. Even forget KEKO MASK. The new superhero spectacular is CUTIE HONEY!"

The comic, as penned by Go Nagai, began in 1973. Now, Nagai is back as scripter for this movie about a girl with ridiculously strong fighting powers. Sweet Kisaragi lives in a secluded boarding school, but when evil threatens the world it's time for her to fight crime. Kisaragi screams "HONEY FLASH!" and transforms into the sexy fighting diva Cutie Honey. The world will never be the same.

Please note: Director Anno's previous film, SHIKI-JITSU, is also available from Asian Cult Cinema.

A Japanese Film; Domestic release; widescreen uncut (94 min.) version encoded for REGION ONE NTSC, playable on any American DVD machine; in Japanese language with removable English subtitles.

Violence/Adult Material: Viewer discretion is advised.

·