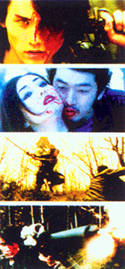 director: Ryuhei Kitamura
starring: Taku Sakaguchi ·
Hideo Sakaki · Ayumi Yoshihara ·
Takehiro Katayama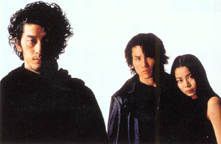 ULTIMATE REVISION - INTERNATIONAL RELEASE
[Disc 1 - The Movie Revised] Now that director Kitamura has met wealth and success, he's gone back to his original masterpiece and embarked on some massive refurbishing. Finally... here is VERSUS the way Kitamura wanted it to be! For the three people who aren't already familiar with the VERSUS plot: A young escaped convict finds himself in the middle of a deadly war between gangsters and flesh eating zombies.
[Disc 2 - The Extras] This ultimate collector's edition - available exclusively as a Japanese import - includes 15 minutes of newly shot footage, a new soundtrack and some highly creative editing work. PLUS... disc two contains almost 3 hours of extras! Never-before-seen footage (21 min.), deleted scenes, a suppressed "making-of" documentary ("Birth of the Darkhero" 27 minutes), a new making-of featurette "Behind Versus" (46 min.)... and there's more; short films NERVOUS 1 (7 min.) and NERVOUS 2 (16 min.).

Japanese import; widescreen revised (130 min.) version in DVD format, encoded for ALL REGIONS, playable on any American DVD machine; in Japanese language with removable English subtitles. This title is Category III, intended for viewers over 18 years of age.

Violence/Adult Material/Gore: Viewer discretion is advised.