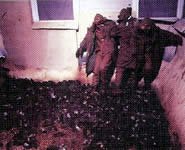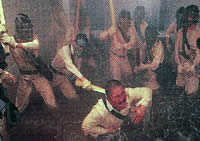 director:T. F. Mous
starring: Wang Gang· Wu Dai Yao· Wang Run Shen
Quan Zhe Zhao Hua· Jin Tie Long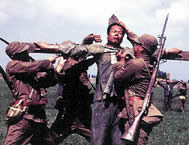 An uncompromising (well-filmed, but repulsive) movie that vividly shows the atrocities committed by the Japanese against the Chinese inside the walls of the "scientific research oriented" Concentration Camp 731 during World War II, run by a stern commandant (Wang Gang). The camera doesn't stray from the horrendous images; rather, it uses those scenes (e.g., a young blind boy's chest is cut open and his heart is removed "just to see what it looks like) to emphasize the incredible lack of humanity by the oppressing Japanese.
HK import; fullscreen uncut (95 min.) version in DVD encoded for ALL REGIONS, playable on any American DVD machine; Chinese language with removable English subtitles; special features include theatrical trailer and an interview with the director.

Adult Material/Violence/Gore/Rape: Viewer discretion is advised.