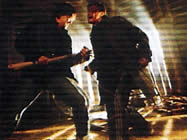 ·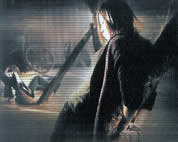 director: Kim Seong-Hong
starring: Park Jung-Hun · Kim Ju-Hyeok · Chu Sang-Mi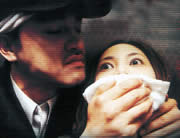 ·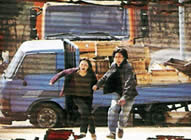 "Don't be fooled by the uplifting "SAY YES" title... this movie is the most EVIL film you'll ever see," says film critic Archie Cole. "It is tense, black, ugly and, above all else, relentless in its attack against humanity."
A young writer, Jeong-hyun (Kim), decides to take his girlfriend (Shu) on a weekend vacation to celebrate the sale of his first novel. Enroute, however, their journey takes a sinister turn when they meet a darkly moody man (Park) at a cafe. He tells them about his car trouble and asks if they can give him a lift to a nearby town. They agree to help the guy out. But, while on the road, the man begins to act more and more sinister. After a long silence, he mutters: "I was just thinking about killing the both of you." "What·" cries Jeong-hyun. Then the man smiles and replies - "Sorry. Just a joke." But when he's dropped off, the man turns and says coldly - "By the way, I never joke." At this point, the movie escalates into a wild thriller (sort of a white-knuckled, blood-soaked HITCHER), both unforgettable and intensely vicious. -
Korean import; widescreen uncut (104 min.) version in DVD encoded for ALL REGIONS, playable on any American DVD machine; Korean language with removable English subtitles; bonus includes the original theatrical trailer and "Making Of" documentary.

Adult Material/Violence/Gore/Rape: Viewer discretion is advised.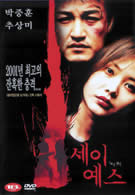 ··