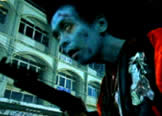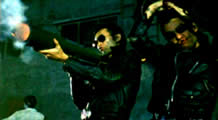 director: Tetsuro Takeuchi
starring: Guitar Wolf · Bass Wolf · Drum Wolf
Masashi Endo · Shitichai Kwancharu
Makoto Inamiya · Haruka Nakajo · Shiro Maniki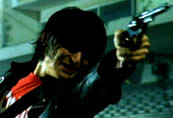 ·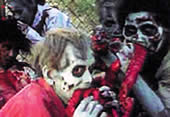 This is the notorious, ultra-gory cult film. There has never been anything like... and there won't ever be again - Leather jackets, over-modulated music, laser guitar picks, supercharged motorcycles, transsexuals, naked women shooting very big guns, and hordes of zombies!
Masashi Endo (from ALL NIGHT LONG 2) is Ace, a young guitar player who idolizes the members of a rock 'n' roll band called Guitar Wolf (the band includes Guitar Wolf himself, Drum Wolf and Bass Wolf). This rock group is dedicated to "the people's music" and, despite their greedy, untrustworthy manager, are truly an inspiration for their fans. At the same time, an army of UFOs invade the Earth and the aliens start turning dead cadavers into flesheating zombies. Guitar Wolf rallies an army of rock 'n' roll junkies in a bloody battle against the monsters.

Widescreen uncut (98 min.) version in DVD encoded for ALL REGIONS, playable on any American DVD machine; in Japanese language with removable English subtitles. NOTE: No additional discounts apply to this item.

Violence/Adult Material/Gore/Punk Rock Music: Viewer discretion is advised.
·