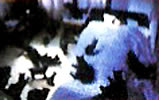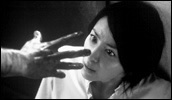 director: Takashi Shimizu
starring: Megumi Okina · Misaki Ito
Misa Uehara · Yui Ichikawa
·

A major hit horror movie produced by the company responsible for RING and director Kiyoshi Kurosawa, Juon is a story about dead people and curses from the grave that haunt physical places in the real world. The curse continues to spread its infection by killing new people, a process which, in turn, creates more "Juons."
This is the movie based on the incredibly popular TV series. In a Tokyo suburb, the owner of a house murdered his wife before committing suicide. Their 6-year-old son has never been found. The wife's angry spirit infects the house and threatens all who enter. After social worker Rika (Okina) investigates, terrible things start happening in her life and people close to her start dying.

Korean import of Japanese film; widescreen uncut version in DVD encoded for ALL REGIONS, playable on any American DVD machine; in Japanese language with removable English, Korean or Japanese subtitles as an option; lots of extras, total of 186 minutes. NOTE: No other discounts apply to this item.

Violence/Adult Material/Gore: Viewer discretion is advised.
·