director: Naoyuki Tomomatsu
starring: Natsuki Kato · Toshinori Omi
Chika Hayashi · Shungiku Uchida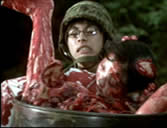 The world is in chaos. In the early 21st century, teenage girls between 15-17 begin dying... but, once dead, they come back to life as flesh-eating zombies (code-named "Stacys"). To keep the zombies from taking over and destroying mankind, parents are urged to kill their daughters before the girls can become infected (chopping them up and leaving them in garbage bags for government-sanctioned pickup). Based on the horror novel by Kenji Ohtsuki, ex-member of the Japanese rock band Kinniku Shojotai (Muscle Girl Area).
Widescreen uncut (80 min) version in DVD encoded for REGION 1 (USA,) playable on any American DVD machine; in Japanese language with removable English subtitles.

ViolenceAdult material/Gore: Viewer discretion is advised.

·