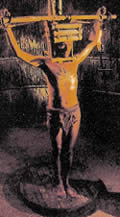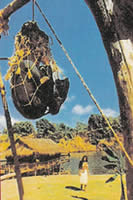 director: Umberto Lenzi
starring: Ivan Rassimov · Me Me Lay ·
Prasitsak Singhara · Sulallewan Suxantat · Ong Ard
aka MAN FROM DEEP RIVER. This movie is notorious be being the FIRST Italian "Cannibal" Movie... a genre that culminated a few years later with Ruggerio Deodata's CANNIBAL HOLOCAUST. Ivan Rassimov plays a man-on-the-run from a pack of gangsters. He escapes to the jungles of Thailand where he's captured buy a tribe of cannibals. It's t he story of raw savagery, tribal torture, and one man's courageous fight for survival, respect, and the delicate and tragic love of a beautiful native girl. A compelling film in which character relationships are brilliantly developed and a richness of human emotions are played out against the bizarre and torturous rituals of the primitive world.

An Italian film; fullscreen, uncut (90 min.) version in DVD encoded for ALL REGIONS, playable on any American DVD machine; in English language.

Violence, Gore, Adult Situations & Nudity : Viewer discretion is advised.