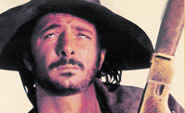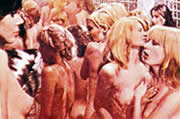 director: Ferdinando Baldi
starring: Tony Anthony · Ringo Starr · Shirley Corrigan
Lucretia Love · Ken Wood · Lloyd Battista · Magda Konopka
Obviously inspired by the Japanese blind Samurai films (Zatoichi), this Spaghetti Western features Tony Anthony as a sightless gunfighter in the Wild West. In this story, Blindman is trying to recover his stolen merchandise, a wagonload of 50 women that he was escorting to a house of ill repute. The prostitutes (including Italian beauties Lucretia Love, Isabella Savona and Magda Konopka) were stolen by a vicious group of Mexican bandidos led by Domingo and Candy, played by former Beatle Ringo Starr. This Japanese release is the first official DVD of BLINDMAN. It contains the nudity often missing from many prints.

Japanese import of Italian film; widescreen, international (84 min.) version in DVD encoded for ALL REGIONS, playable on any American DVD machine; in English language with removable Japanese subtitles as an option; special features include an interview with director Baldi, plus Italian and English trailers

Violence & Nudity : Viewer discretion is advised.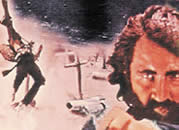 ·