DOS MAESTROS DEL CINE
TWO MASTERS OF CINEMA
THE EARLY SHORT FILMS OF
GUILLERMO DEL TORO and DANIEL DE LA VEGA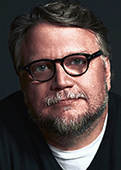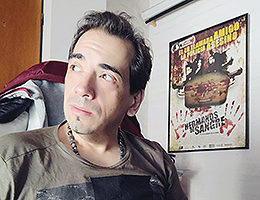 GUILLERMO DEL TORO
Guillermo del Toro Gómez [born October 1964 in Guadalajara, Mexico],
is an award winning film director, screenwriter and producer.
He has helmed an impressive array of hit movies, including
Nightmare Alley, Pacific Rim, Pan's Labyrinth, Blade II
and the Academy Award winning Shape of Water.

DANIEL DE LA VEGA
Daniel de la Vega [born June 1972 in Buenos Aires, Argentina] is considered
the South American El Rey del Terror (the King of Horror) with
his well-crafted thrillers White Coffin, Blood Brothers,
Dead End and Chronicle of the Raven.
_____________________
Here is a list of (previously unreleased) short films in this collection:
GUILLERMO DE TORO
GEOMETRIA [Geometry] (1987) Guillermo del Toro (7:29)
A young boy, socially maladjusted after the death of his father, is
failing Geometry again [for the third time]. Things turn
dark and bloody when he summons the Devil.
Based on a story by Fredric Brown.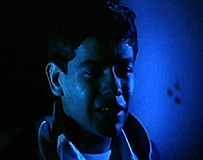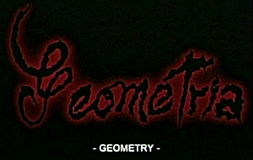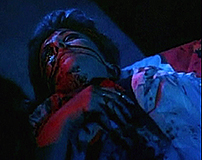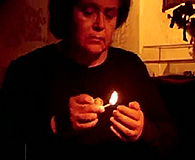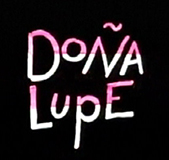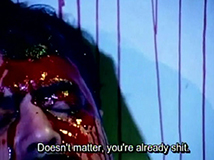 DONA LUPE [Mrs Lupe] (1986) Guillermo del Torro (34:18) ABOVE
Policemen Bienvenido and Chato rent rooms in a house owned by Doña Lupe,
an elderly woman in financial trouble. She immediately mistrusts the men
- but because Mrs Lupe needs the money - she allows them to stay.
However, when the boarders change the locks and become intensely secretive,
she realizes trouble is brewing and things turn very violent.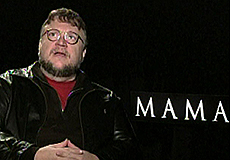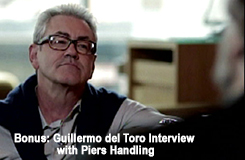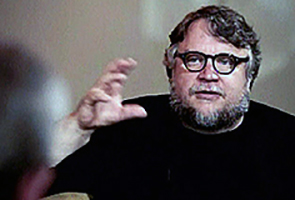 MAMA (2012) Guillermo del Toro (3:42) ABOVE LEFT
Mr Del Toro introduces a short film for Mama, which he produced later that year.
BONUS:
GUILLERMO DEL TORO IN AN INTERVIEW
CONDUCTED BY PIERS HANDLING ABOVE RIGHT
An engaging, poignant one-hour interview with
Guillermo del Toro conducted by the
chairman of the Toronto Film Festival.
_______________
DANIEL DE LA VEGA
SUEÑO PROFUNDO [Deep Dream] (1997) Daniel de la Vega (7:56) BELOW
An insomniac takes too many sleeping pills and finds himself
on a one-way subway trip into a personal hell.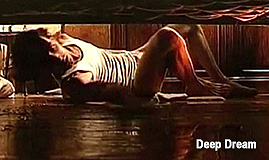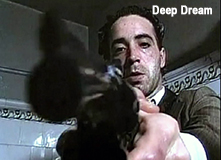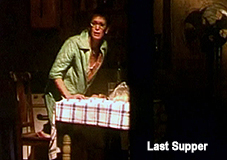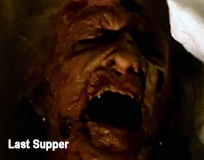 LA ULTOIMA CENA [Last Supper] (1999) Daniel de la Vega (7:40) ABOVE
Daniel de la Vega experiments with gore and FX as
a young woman (played by Graciela Bonomi) faces
aging, decay and ultimately a gruesome death.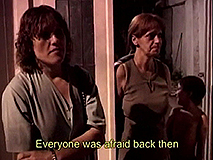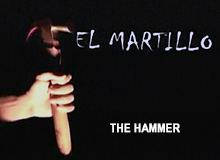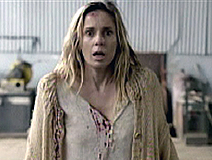 EL MARTINO [The Hammer] (2003) Daniel de la Vega (18:25) ABOVE
An award-winning short [including Grand Prize at the prestigious
Sitges Film Festival] dealing with an Argentinean legend about a
psychopath who killed numerous women with a hammer.
But De la Vega's film is more of a study in fear, memory and subjectivity.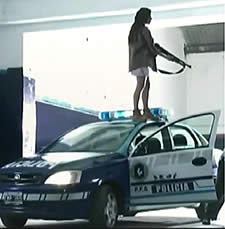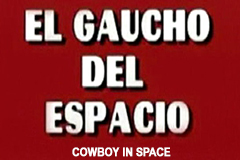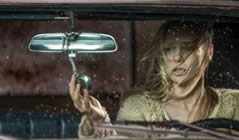 GAUCHO DEL ESPACIO [Cowboy in Space] (2002) Daniel de la Vega (10:22) CENTER
A documentary about different nationalities and the financial reward
for being "the first into space."
BONUS:
DANIEL DE LA VEGA PROMOTION REELS (2003-2020) (6:15) ABOVE RIGHT & LEFT
A collection of clips from Daniel de la Vega's feature films.
__________________

Adult Material/Graphic Violence
Recommended for Mature Audiences