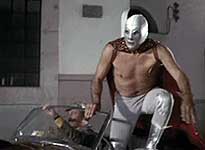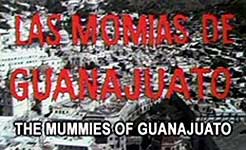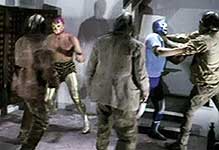 original Mexican/Spanish title LAS MOMIAS DE GUANAJUATO [The Mummies of Guanajuato]

directed by Federico Curiel
starring: Blue Demon · Mil Mascaras · Santo · Elsa Gallardo · Jorge Pinguino · Patricia Ferrer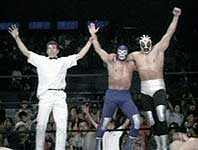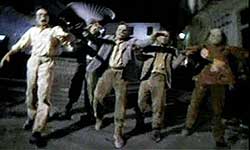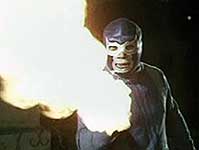 The mummy of a legendary wrestler named Satan makes a pact with Lucifer to awaken 100 years after his death to take revenge against any decedent of arch-rival Santo in the year 1972. The only witness of Satan's revival is a midget tourist guide named Penguin. But nobody believes his 'eyewitness account,' thinking he's merely drunk. So Penguin asks nightclub singers Lina and Alicia (played by Mexican dream girls Elsa Cárdenas and Patricia Ferrer) to seek help from wrestlers Blue Demon and Mil Máscaras [ie, Lina is dating Mil]. But these two superheroes are equally skeptical. Even though they both know about the legend of Satan, they think it's merely folklore. However, when a series of gruesome murders occur, the wrestlers begin to realize that Satan may - indeed - be back. As the evil sorcerer builds his army of zombies, a plot to defeat them is concocted by Blue Demon, Mil Mascaras and their buddy Santo.
Guanajuato is a Mexican town famous for a mysterious mummification process that happens to cadavers buried in its cemetery. Some of those bodies are on display at the Guanajuato Mummy Museum. Obviously, this is a perfect backdrop for a horror film. And director Federico Curiel with his three luchidors take full advantage. The film is constructed like a living, breathing comic-book. Not surprising, since Federico Curiel was also a comic book artist, and his fascination with the genre is very obvious in the movie. He knows the supernatural elements will not (should not) be taken seriously, rather he is more interested in creating a supernatural free-for-all [not unlike a wrestling battle royale], continuity be damned.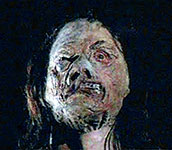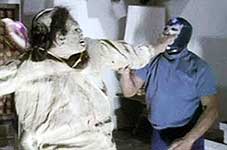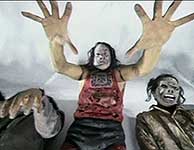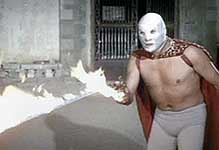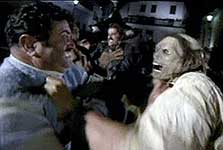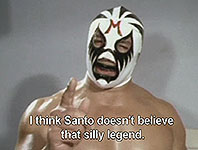 A Mexican/Spanish film with English subtitles; Uncut (80 minutes),
in DVD format, encoded for ALL REGION, playable on any American DVD machine.
Extras include selected theatrical trailers.