"One of the Best Sword & Sandal Films Ever Made" --Maciste Brother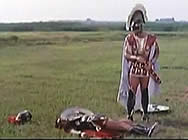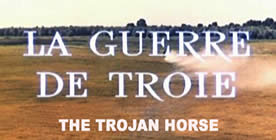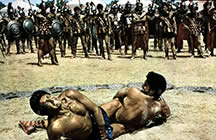 original Italian title LA GUERRA DI TROY [The War of Troy]

director: Giorgio Ferroni
starring Steve Reeves · John Drew Brrymore · Juliette Mayniel · Lydia Alfonsi · Mimmo Palmara · Hedy Vessel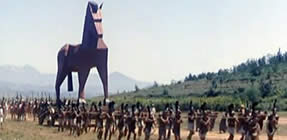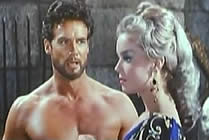 Over the years, this film has been praised as "one of the best sword-n-sandal movies ever made." The story of Helen and Troy has been produced several time but none of those projects have surpassed this one. The script is excellent, smart and detailed. Mario Ammonini's score is vibrant. The cast is strong; Steve Reeves (best known for his HERCULES) give his best performance; and John Drew Barrymore (later to star in WAR OF THE ZOMBIES (1965) never looked more handsome and evil as in his role as Ulysses.
After the International success of MILL OF THE STONE WOMAN in late 1960, director Giorgio Ferroni was given a pile of cash and a green light to make whatever film he desired. This result was BONDAGE GLADIATOR SEXY, a motion picture which is virtually unparalleled in the annals of cinema. After that fever-dream he delivered this exceptional film. His interests then turned to Spaghetti Westerns. Operating mostly under the Calvin Jackson Padget pseudonym he made numerous legendary westerns but is best known for BLOOD ON THE SILVER DOLLAR. He would make only one more horror film, NIGHT OF THE DEVILS before his death in August 1983 at age 73.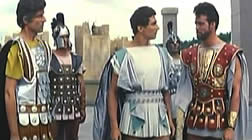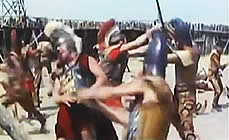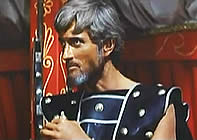 An Italian/French production, in English language; widescreen format, uncut version (102 minutes),
DVD encoded for ALL REGIONS NTSC; extras include original trailer.