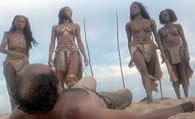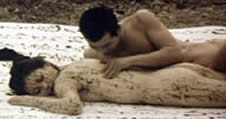 COLLECTIONS PRIVEES (Private Collections)
Three Short Films by Three of the World's Greatest Erotic Filmmakers



·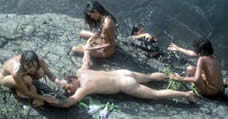 L'ILE AUX SIRENES [above]
aka LIFE WITH THE AMAZONS
director: Just Jaeckin
starring: Laura Gemser · Roland Blanche · Marlene Dubois
On a deserted island, a castaway is befriended by a tribe of succulent native women.
He didn't realize that he was going to be their dinner.


·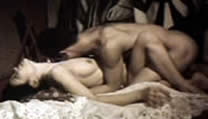 ·

GRASS LABYRINTH (Kusa-meikyu) [above]
director: Shuji Terayama
starring: Takeshi Wakamatsu · Juzo Itami · Hiroshi Mikami
A man - attempting to find the significance to a haunting lullaby - ventures
through a series of dream motifs while pursued by a demonic nymphomaniac.

·


L'ARMOIRE [above]
director: Walerian Borowczyk
starring: Marie-Catherine Conti · Yves-Marie Maurin
Adapted from a short story by De Maupassant, this is the tale of a torrid liaison
between a Parisian gentleman and a Folies Berger prostitute.
A French-produced film; widescreen format, fully uncut (103 minutes) encoded for ALL REGIONS NTSC, playable on any American machine; in French/English/Japanese language with optional English subtitles. Extras: original French theatrical trailer.

Violence/Adult Material/Nudity:
Recommended for Mature Audiences