Remarkable Cast in an Effective Devil-Worshipping Tale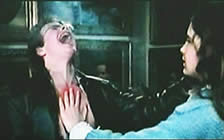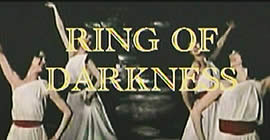 Original Italian Title: UN'OMBRA NELL'OMBRA [A Shadow Inside the Shadow]
also known as SATAN'S WIFE and DEVIL'S RING

director: Pier Carpi
starring: Anne Heywood · Lara Wendel · Frank Finlay · John Phillip Law · Marisa Mell · Irene Papas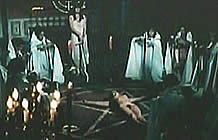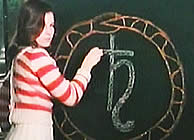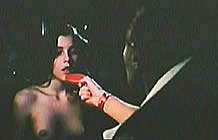 Carlotta and a group of friends decide to join a Satanic cult for kicks and during a black mass she surrenders her body to the resurrected Devil himself. Or so it seemed at the time. Now, fifteen years later, Carlotta is a mom with a teenage daughter named Dara, a girl who has become totally uncontrollable. She has developed a devotion to the Black Arts and enjoys hurting people with no remorse. Dora's black instincts and supernatural powers seem to be getting stronger every day. So, Carlotta enlists the help of a priest (who is in the throes of his own crisis of faith) to help her and her friends perform a ritual that will hopefully drive the evil out of her daughter.
Anne Heywood was a popular star in Italian genre cinema throughout the seventies (probably best known for NUNS OF SAINT ARCHANGLE) but she was actually a transplant from England where won the Miss Great Britain title in 1950 at age 17. Miss Heywood (born Violet Pretty) played many 'good girl' roles in British cinema throughout the 50s and 60s, but all that changed when she starred in the controversial lesbian drama The Fox in 1969. Although she won numerous awards for her performance in that film (including the Golden Globe for best actress), it also tarnished her reputation in the UK. A couple years later she went to Italy for the transsexual shocker I WANT WHAT I WANT and ended up staying in Rome. RING OF DARKNESS would be her last theatrical film, a few Euro television projects followed but, then - after the death of her longtime husband in 1988 - she married George Danzig Druke. the assistant New York Attorney General, and retired from acting. Today Miss Heywood and her husband live in Beverly Hills California.
Director Pier Carpi assembled a remarkable cast - consisting of four Euro starlets - for this devil-worship 'exorcist' tale. Interestingly, he was a mysterious filmmaker responsible for only one other movie, 1974's Povero Cristo [Poor Christ], the story of a private detective hired to find evidence of the existence of Jesus. He had a tangent career as a journalist and writer for Italy's RAI television network. Mr Carpi died at age 60 from a heart attack in June 2000.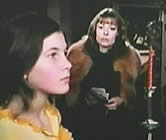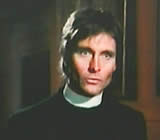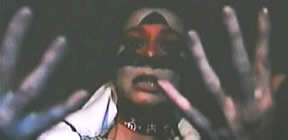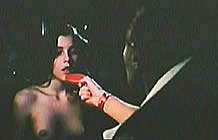 An Italian film in English language; widescreen format (16:9), uncut version (90 min.), DVD encoded for ALL REGION NTSC WORLD FORMAT, playable on any American machine. Extras include theatrical trailers.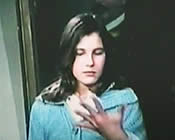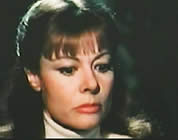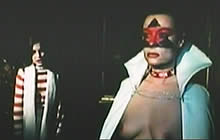 Violence/Nudity/Sexual Situations/Blasphemy:
Intended for Mature Audiences