Carla Brait, Femi Benussi and Magda Konopka in Italian Sex Comedy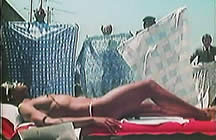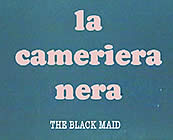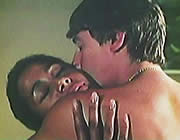 Original Italian Title: LA CAMERIERA NERA [The Black Maid]

director: Mario Bianchi
starring: Carla Brait · Femi Benussi · Gianni Dei · Magda Konopka · Carla Calo · Franco Latini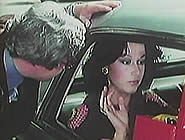 Carla Brait, probably better known for her co-starring roles in numerous Italian Giallos (i.e., CASE OF THE BLOODY IRIS, TORSO, et al), toplines here in the title role of a black maid named Anita. She arrives at an apartment building where she's been hired by the Lombadini family as a live-in maid. But her presence seems to stir everyone's carnal juices and the menfolk go into a sex-sniffing frenzy. Truth be told, however, the film is less about Anita and more about zany people who live in this eccentric apartment complex. While the cast features many of Europe's top female starlets in their prime, the real emphasis lies with the male characters: the psychologist, the bumbling caretaker, the horny Lombadini son and the right-winged general (Mussolini in hiding?). Yet, despite Franco Latini's grating doorman routine, the Josephine Baker group dance on the rooftop is worth the wait.
Director Mario Bianchi is the son of exploitation filmmaker Roberto Montero Bianchi (SLASHER IS A SEX MANIAC) and began his career working as an assistant director for his father. He helmed his first feature in 1971, a Spaghetti Western Fasthand under the name Frank Bronston. In the following 30 years. Mario Bianchi made 85+ movies under thirteen different pseudonyms. His most famous film SATAN'S BABY DOLL was credited to Alan W Cools and VIOLENT CITY was signed Nicholas Moore. Interestingly, for BLACK MAID he used his real name. After almost two decades of adult XXX filmmaking, Mr Bianchi retired from the director's chair in 2001. Today, he lives quietly in a Rome suburb.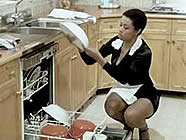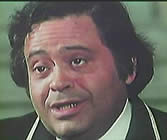 An Italian film in English language; widescreen format (16:9), uncut (87 minutes), DVD encoded for ALL REGION NTSC WORLD FORMAT. Extras include theatrical trailers.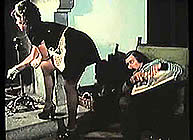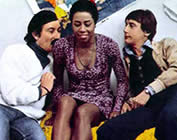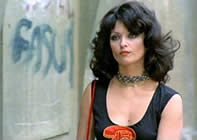 Adult Material/Strong Sexual Themes/Nudity/Lesbianism:
Recommended for Mature Audiences