Camille Keaton in the Naughtier Side of Decameron Tales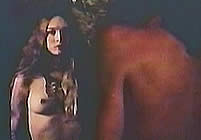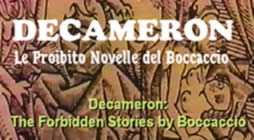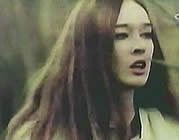 director: Mino Guerrini
starring: Camille Keaton · Krista Nell (as Doris Kristanel) · Enzo Pulcrano · Claudia Bianchi · Mario Brega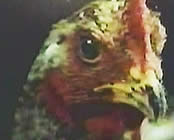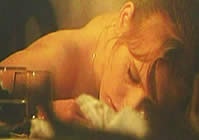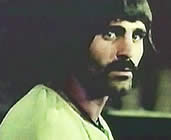 Here are six more stories from the bawdy Giovanni Boccaccio, seemingly stories that were considered too dirty for Pier Palo Pasolini's original (mainstream) Decameron, the previous year. The first tale is an odd, dated story about homosexuality. In the second, a randy priest convinces a man that he's died and gone to purgatory so he might take advantage of the man's voluptuous widow. Camille Keaton shows up for the third story. She plays Ability, a young woman who seeks spiritual enlightenment from a randy hermit. He teaches her how to put his 'devil' in her 'hell,' but she soon wants the Devil in Hell 24 hours a day. In the fourth story, a 'faithful' wife (played by Krista Nell, hiding behind the pseudonym Doris Kristanel) and household servant begin an affair under the husband's nose. The fifth tale is basically the same story of a cuckold husband except the sex is between his wife and a priest. And in the final installment (easily the funniest and most disgusting) involves free-spirited wife-swapping and a pretty girl with a mustache.
Camille Keaton remains something of an enigma. She has never seriously addressed her relationship with legendary comedian Buster Keaton (she once commented that they were distantly related 3rd or 4th generation) however most sources say she was his grandniece [and some claim him to be her grandfather]. It has also never been established how this young woman from the States became a successful actress in Europe, virtually overnight. She was born in Pine Bluff Arkansas in July 1947. She and her family moved to Atlanta Ga in 1960 and Camille was involved in a major car accident in 1969 which resulted in severe facial scarring. At that point - probably to avoid unwanted attention - she took the money from her insurance settlement and moved to Italy. Within a year and a half, she landed the role of Solange for Massimo Dallamano's thriller WHAT HAVE YOU DONE TO SOLANGE? She would star in numerous other Italian films (including this one, Riccardo Freda's TRAGIC CEREMONY and SEX WITH A WITCH) before agreeing to make I SPIT ON YOUR GRAVE (Day of the Woman) for director (and future husband) Meir Zarchi. After that movie, she left Europe and returned to America for a series of nondescript film and a divorce from Mr Zarchi. A couple years later, Ms Keaton became the fourth (and final) wife of famed Hollywood producer Sidney Luft, a man thirty years her senior.

An Italian film with English subtitles, widescreen print (16:9); totally uncut version (98 minutes), DVD encoded for ALL REGION NTSC WORLD FORMAT. Extras include trailers.
Violence/Sexual Themes/Nudity/Sexual Brutality/Rape/Homosexuality/Blasphemy
for Mature Audiences