Trippy Acid Cinema written by Dario Argento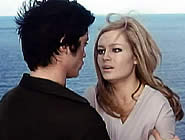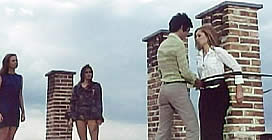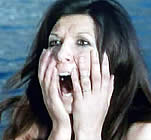 original Italian title: LA STAGIONE DEI SENSI

director: Massimo Franciosa
starring: Udo Kier · Laura Belli · Edda di Benedetto · Eva Thulin · Susanne von Sass · Gaspare Zola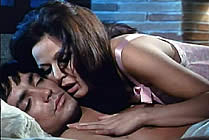 Udo Kier is Luca, a wealthy [but decadent] recluse who presides over his own island and the mansion built upon it. The film opens as he kills his domineering mistress and dumps her body down a garbage chute into the shark-infested ocean. Onto this scene comes a group of young people (4 females and two men) who had been on a sea "adventure" until their boat ran dry of fuel. They brashly invade Luca's space, demanding food, drink and a place to crash. Luca is unimpressed with the lot and chooses to ignore the privileged young people, even when the girls throw themselves sexually his direction. Eventually, the two boys leave the island after confiscating some petrol but the four girls decide to stay. Cultural conflicts ensue. Luca begins toying with the girls - sexually, emotionally and physically - until they enter a delusional state that can only end badly. Very badly.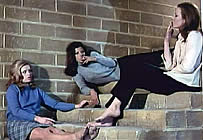 Dario Argento wrote this script with Barbara Alberti (author of numerous thrillers including HOTEL FEAR). He developed this project just prior to his directorial debut, "Bird with Crystal Plumage" in 1970 [both this film and BIRD were scored by Ennio Morricone]. Filmmaker Massimo Franciosa directed only a handful of movies; he was better known as a novelist and scriptwriter who often worked with Pasquale Festa Campanile (AUTOSTOP ROSSO SANGUE: HITCHHIKE) and Dino Risi (ANIMA PERSA: LOST SOUL). Mr Franciosa died in March 1998 at age 73.
This was one of the first films for actor Udo Kier who has made 225+ movies between 1969-2016. He is best known for the starring roles in ANDY WARHOL'S FRANKENSTEIN (Flesh for Frankenstein) and ANDY WARHOL'S DRACULA (Blood For Dracula). During his incredible career, Udo Kier has managed to portray every major film monster/villain including Jack the Ripper, Frankenstein, Dr Jeckyll, Witchunter General, Dracula, the Werewolf and Adolf Hitler (twice).
An Italian production with English subtitles; fullscreen format, totally uncut version (91 min.), DVD encoded for ALL REGION NTSC, playable on any American machine. Extras include trailers.