DARNA vs PAGBABALIK
(Wonder Woman versus Snake Girl)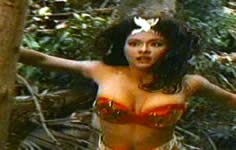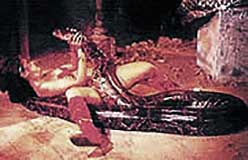 director: Peque Gallaga
starring: Anjanette Abayari · Rustom Padilla · Cherie Gil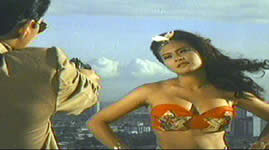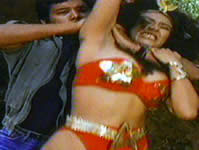 Darna is Wonder Woman, or — rather — a Filipino manifestation of Wonder Woman. She was created in the fifties by Mars Ravelo and thrived in the comix world (despite numerous infringement lawsuits generated from the United States). While Anjanette Abayari looks great in traditional Woman Woman attire, the film more closely resembles Xena or maybe Supergirl. But that's not necessarily bad.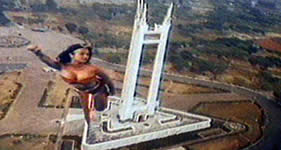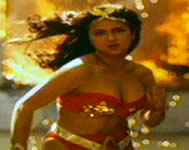 Valentina, Darna's snake-haired arch enemy, is trying to take over the Philippines through subliminal messages broadcast on religious TV shows. Darna wants to stop the evil bitch, but she has her own problems... she's lost her magic pearl and no longer has the power to transform into her scantily-clad super-self. So, trapped inside the facade of her alter ego (a reporter), she must find the pearl, become Wonder Woman and foil Valentina's plans. Will she be successful? Damn right she will.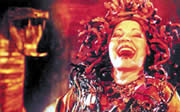 HK import of Philippine film; widescreen uncut version in DVD encoded for ALL REGIONS, playable on any American DVD machine; in Philippine language or Chinese voice-over with English orChinese subtitles.

Violence and Adult Material: Viewer discretion is advised.