aka GOLIATHON, COLOSSUS OF THE CONGO, ASIAN KING KONG



director: Ho Menga-Hua (Ho Menga)
starring: Danny Lee · Evelyn Kraft · Cheng Cheng-Feng · Chen Ping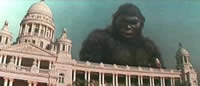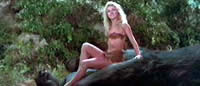 Even if there hadn't been a giant ape in this movie, it would still be highly recommended. Even if it weren't an unabashed Asian clone of KING KONG, it would've still been "don't-miss-it" entertainment!
By now, most every cult-movie fanatic has heard about Evelyn Kraft and how she steals the show as the beautiful blond jungle girl. Fresh from her performance in Franx-Joseph Gottlied's German horror film LADY DRACULA, Evelyn brings an incredible amount of screen sexuality to this Shaw Bros production. It's worth the price just to see Ms Kraft run around the city of Hong Kong in her jungle attire. Also starring a very young Danny Lee as Kraft's boyfriend.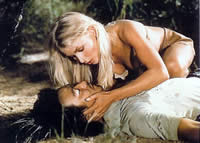 Domestic release of a HK film; restored, widescreen (2:35:1) uncut (91 min.) version in DVD format, encoded for REGION ONE, playable on any American DVD machine; in Chinese or English language, with removable English subtitles; original theatrical trailer as an extra.

Violence/Adult Material: Viewer discretion is advised.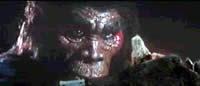 ·