·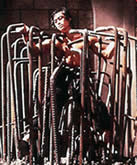 director: Nam Nai Choi
starring: Fan Siu Wang · Fan Mui Sang · Ho Kar Kui
Yukari Oshima · Tetsuro Tanba · Gloria Yip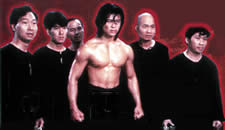 It's the story of mild-mannered Rikki who freaks-out when his girlfriend is killed by drug-dealing gangsters. He gets revenge by using a special kind of kung fu, but he also goes to prison for his efforts. This isn't just any ol' prison-- this is a maximum-security penitentiary of the future. But Rikki can't turn a blind eye to the brutality going on around him. And so, he retaliates... with a vengence seldom seen in motion pictures.

This is one of the most over-the-top, extreme ultra-gore films of all time.
Widescreen (90 min.) version in DVD format encoded for REGION 1 (USA,) playable on any American DVD machine; in English or Chinese language with removable English or Chinese subtitles as an option.

Violence/Adult Situations/Gore:
Viewer discretion is advised.