Please Note: this film contains scenes of a gross and
disgusting nature. It should disturb any viewer.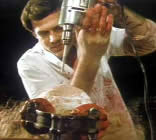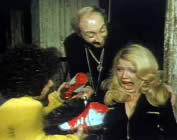 director: Joel M. Reed
starring: Seamus O'Brien · Louis DeJesus · Niles McMaster



This gore-filled, misogynist horror film is set in a new York theater of the macabre where the audience gets sex, violence and cannibalism! No one can remain unmoved by the intense scenes of carnage - from the human dartboard to the infamous brain-sucking segments (see above for both).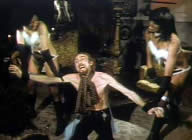 An American Film; fully uncut version encoded for ALL REGIONS NTSC, playable on any American machine; in English language. Extras include trailers and audio commentary by gore expert Eli Roth.

Graphic Violence/Adult Material/
Gore/Nudity/Rape/S&M:
Recommended for adult viewers only