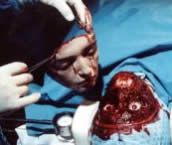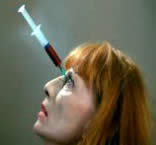 director: Jess Franco
starring: Caroline Munro · Helmut Berger · Brigitte Lahai · Telly Savalas
Christopher Mitchum · Lina Romay · Anton Differing


Probably Jess Franco's most accomplished motion picture with an all star cast to match! beautiful women are violently abducted and kept hostage in a covert clinic where Dr Flamand is conducting a series of grisly skin graft experiments that leave unwilling humans guinea pigs mutilated and dead. When a powerful industrialist's daughter goes missing, Detective Sam Morgan uncovers clues to lead him to Dr Flamand's secret house of surgical horrors!



A domestic release of an French film; widescreen (16:9), fully uncut version (99 minutes) encoded for REGION ONE NTSC, playable on any American machine; in English language. Extras include interviews with director Franco plus Lina Romay, Chris Mitchum and Caroline Munro.

Graphic Violence/Adult Material/Gore/Nudity/Drugs:
Viewer discretion is advised.